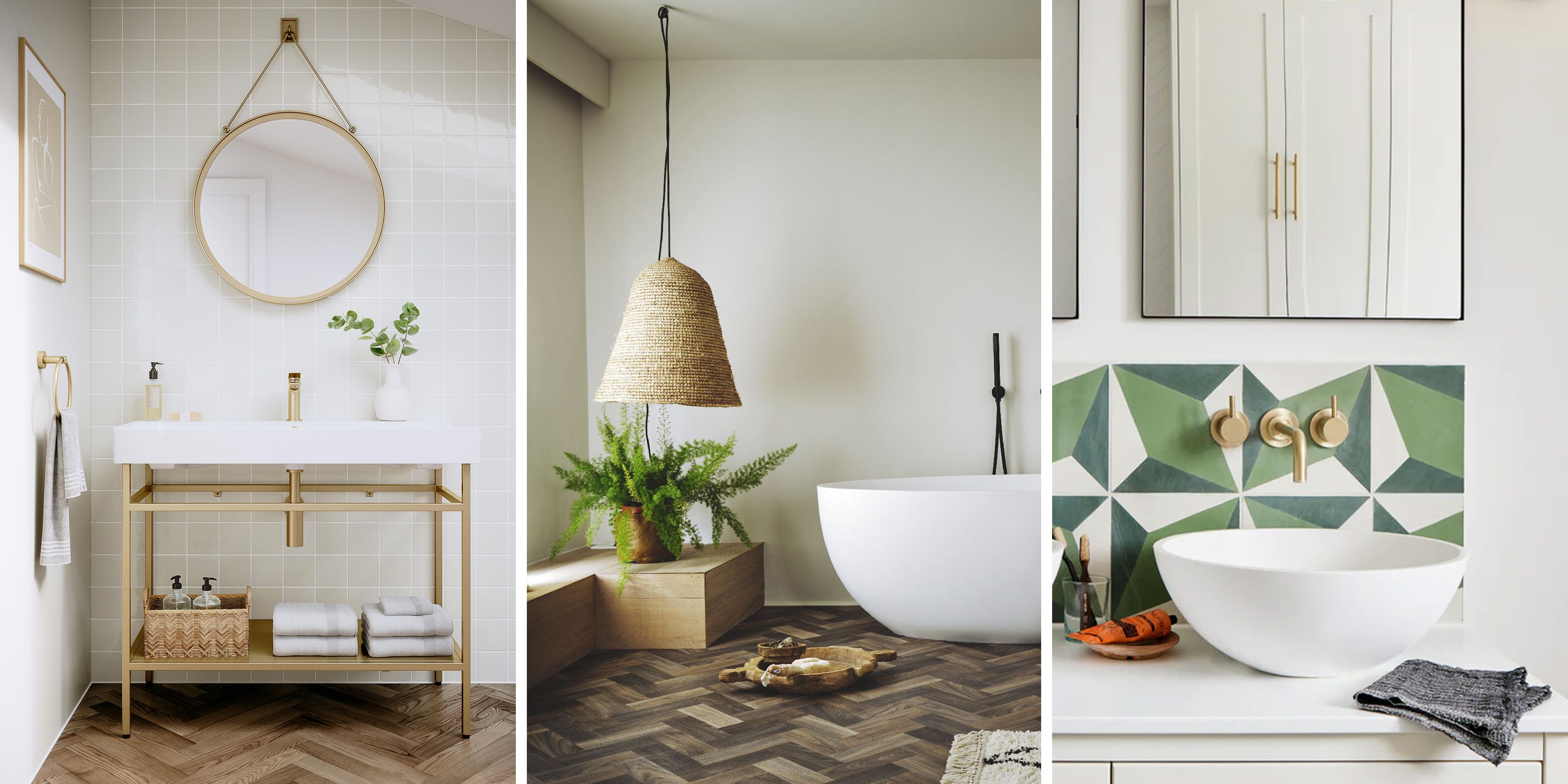 The National Kitchen & Bath Association (NKBA) recently unveiled their 2024 Bath Trends Report, signaling the forthcoming wave of innovative bathroom designs. This comprehensive report, based on insights from 536 industry professionals including designers, contractors, manufacturers, and architects, sheds light on the anticipated shifts in bathroom aesthetics, features, and materials.
Departing from traditional trends, the report indicates a fading interest in elements like "Hollywood" lighting, glass blocks, vessel sinks, and all-white bathroom schemes. However, it's time to embrace the exciting developments! Let's explore the upcoming trends that are set to redefine the allure of bathroom design.
**Modern Marvels:** Survey results reveal that 55 percent of respondents favor modern and contemporary designs infused with organic and natural influences. Notably, transitional and timeless styles continue to maintain their popularity, resonating with 64 percent of participants.
**Green Palette:** Farewell to the dominance of all-white bathrooms! Emerging trends indicate a preference for biophilic-inspired colors, particularly green, which has claimed the top spot among surveyed respondents at 35 percent. This shift towards warmer neutrals and earthy tones aims to create a cozy and tranquil ambiance within bathroom spaces.
**Water Closets:** Despite being a simple addition—a separate small room housing a toilet—the demand for water closets is surging. A staggering 71 percent of participants consider water closets, whether with or without doors, as highly desirable features in bathrooms.
**Smart Toilet Innovations:** Looking ahead, smart toilets equipped with automatic lids, warming seats, and self-cleaning functionalities are predicted to dominate the market. The prospect of a self-cleaning toilet has garnered significant attention and interest among design enthusiasts.
**Luxurious Showers:** Elevating the shower experience is a prevailing trend, with an emphasis on features such as built-in seating, hand-held shower heads, rain showers, steam functions, and body sprays. Moreover, respondents foresee the popularity of showers integrated with a separate tub or entire wet room configurations.
**Open Showers:** About 70 percent of respondents favor door-less showers or seamless transitions between the shower space and the rest of the bathroom. Additionally, frameless, crystal-clear glass panels are projected to replace frosted or smoked glass.
**Black Faucets:** Black finishes for faucets take the lead at 51 percent, followed closely by nickel or pewter at 45 percent. Matte and brushed finishes, featuring Spot Defense for reduced water marks, are also gaining traction.
**Unexpected Additions:** An intriguing trend on the rise involves the integration of beverage stations and mini refrigerators into bathrooms. Approximately 21 percent of respondents express growing interest in adding refrigerators to primary baths for storing beverages, medications, cosmetics, and skincare products.
**Artistic Tiles:** Intricate tile patterns, such as hexagonal, chevron, and herringbone designs, are surpassing conventional options like large-format tiles, pebbles, stone, slabs, or circle/square mosaics. These patterns extend to both shower floors and the broader bathroom space, enhancing the visual appeal with textured tiles featuring small or no grout lines, often complemented by app-controlled heating features.
**Wallpaper Resurgence:** Wallpaper remains a significant choice for introducing vibrant colors into bathrooms, leading the charge in adding statement hues, as confirmed by 50 percent of respondents. This preference surpasses alternatives like cabinet/vanity colors, wall paint, artwork, and flooring.
**Grout-Less Options:** In a bid to minimize grout maintenance, individuals are veering towards paneled, grout-less options for shower walls. A significant 74 percent and 68 percent of respondents anticipate the rise of large-format tiles and slab/solid surfaces to address this concern.
**Quartz Dominance:** Engineered materials, particularly quartz, are gaining prominence over natural materials due to their resemblance to real stone and ease of maintenance. An overwhelming 81 percent of respondents predict quartz as the primary material for vanities in the near future. Additionally, extending countertop materials into backsplashes is becoming a popular seamless design choice.
**Lighter Vanities:** Respondents lean towards lighter to medium natural grain and textured wood vanities over darker, painted styles. Floating vanities are also on the rise, with 64 percent of respondents foreseeing their increased presence in the coming years. Furthermore, motion sensor toe kick lighting emerges as an appealing vanity feature, serving both aesthetic and functional purposes.
**Enlightened Mirrors:** Mirrors equipped with anti-fog properties, smart capabilities, and backlit designs are anticipated to proliferate, as cited by 56 percent of respondents.
The NKBA's 2024 Bath Trends Report paints an exciting picture of the evolving landscape of bathroom design. With a shift towards innovative features, color schemes, and materials, the forecasted trends promise to redefine the essence of modern bathrooms for years to come.